Get all the latest ThisIsBracketRacing.com information via e-mail. Signup Here.

Read our racer testimonials here.
Hello and welcome to ThisIsBracketRacing.com. My name is Luke Bogacki, and I'm your head instructor, so to speak. You can click on my bio to get some information to validate that position, but it doesn't really matter. I'm not here because I think I'm the greatest racer to ever put on a helmet. I'm not, and won't claim to be. I'm here because I do race for a living, I have been fairly successful, and I do firmly believe that I can help you become a better bracket racer. That's what this site is all about: learning, opening our minds, and challenging ourselves to improve. ThisIsBracketRacing.com has been online since February, 2009. In that time, we've helped thousands of racers that share that common goal.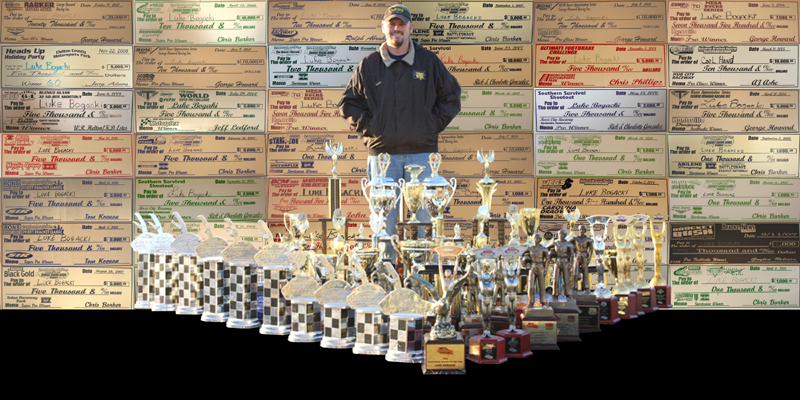 I created ThisIsBracketRacing.com to provide a truly cerebral approach to sportsman drag racing, an approach that really hasn't been touched upon by the print, broadcast, or internet media. My goal here is to help you become a better racer by evolving your race strategy and making solid decisions. If we could all be .00 and dead-on every lap, we certainly would. But to win a race you don't necessarily have to make the best runs of each round you just have to make a better run than your opponent!
Within the monthly columns on this site, I will explain more deeply what I mean. We discuss basic race strategy, and what winners do that average racers don't. We go over basic "game plans" that the majority of racers live by (and there are a lot of ways to approach what in theory should be a simple game). And we teach you how to employ the appropriate strategy for each round of competition: a strategy that will allow you to capitalize on your strengths, and expose your opponents weaknesses.
As your head instructor, I post a column each month on various topics related to bracket racing strategy. Some of the columns build on one another, and some stand alone. Granted, some of the points I harp on will seem elementary, but generally those serve as basic groundwork for a more in depth theory. I welcome feedback (that's the fun part because that's what opens my mind and makes me think, which in turn lets me learn along with everyone else). We answer every subscriber question individually in the JEGS Q&A, and we'll occasionally post Q&A topics for everyone to review.
We offer annual subscriptions for just $119. Sure, it's a fair amount of money. But if you can take one point from the tutorials within this site; any one thing; and use it help you win one round; any one round; it's paid for itself (and in many cases several times over). I think we can help you to win that round, and many more. For those of you on the fence, we're also offering a 3-month trial subscription for $45. Give us a try for the reduced price, then determine if an annual subscription is worthwhile. We're confident it will be.
How great is ThisIsBracketRacing.com? Read success stories directly from our members
here
.
If you've read thru the portions of this site that are accessible to our guests and decide that it's not for you, thanks for visiting ThisIsBracketRacing.com. But if you're ready to take your game to the next level and start thinking and racing like the pros, click
here
to subscribe to ThisIsBracketRacing.com today.
Thanks again,
Luke Bogacki
Homepage | Signup | Member Center | TIBR Resources | Testimonials | News | Shop | Contact Us | Business Directory

This web site remains property and copyright of This is Bracket Racing 2014